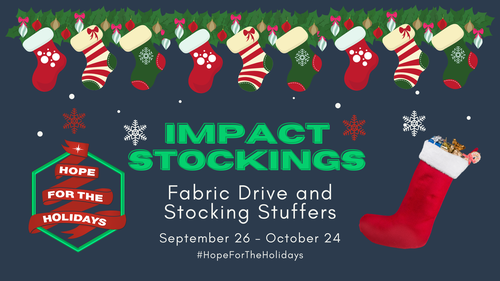 What we'll need:
Individual cookie packs, cracker packs, nut packs
Wrapped jerky/slim jims, wrapped small candy, wrapped small gum
Fun-sized & full-sized candy bars
Small knit gloves/hats, small stuffed animals, small toys/party favors, sticker pages, candy canes.
We are collecting fabric for students at Cy Ranch and Bridgeland High School art classes. This fabric will be used to make Christmas Stockings for the children in inner city Houston who attend the Impact church Christmas Party in December. They are specifically looking for fabric with Christmas prints and solid colors in cotton blends. Felt and DMC embroidery thread is also welcome. We are also beginning to collect stocking stuffers.

You many also give a financial donation to purchase fabric, stocking stuffers and McDonalds gift cards.